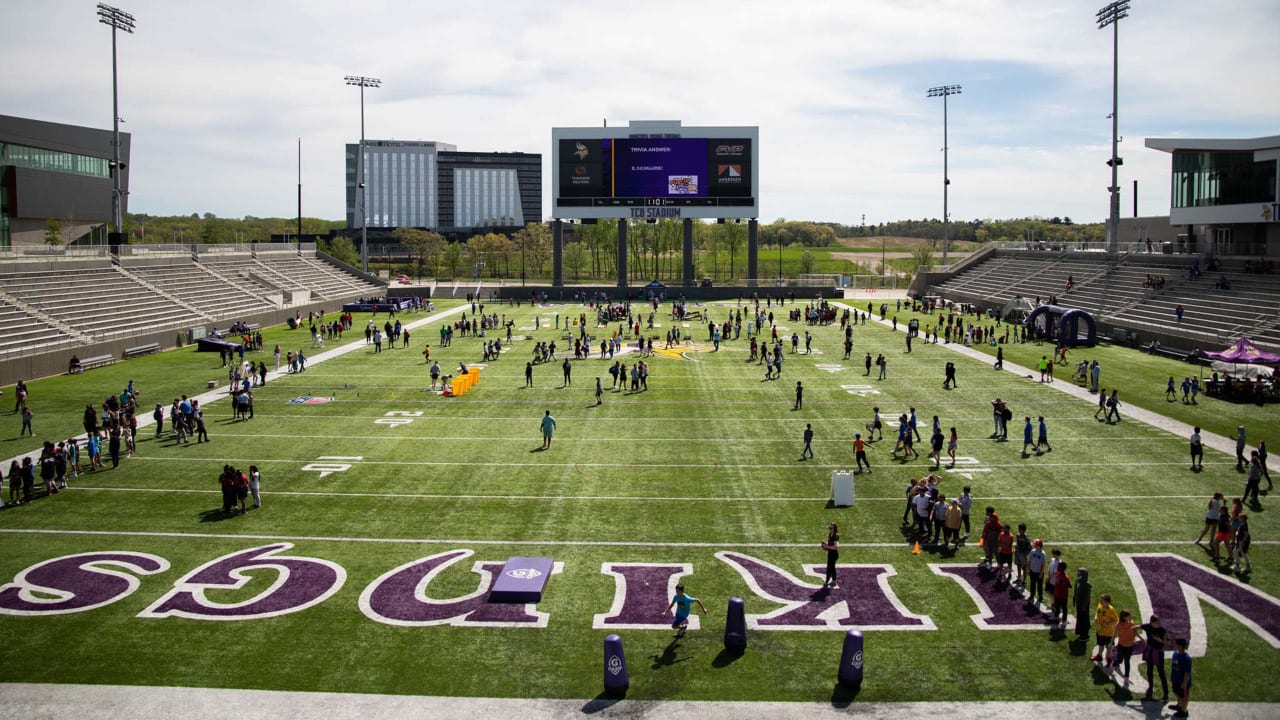 "You don't have to play football or even enjoy football to have fun today," said Brandon Clemens, Vikings director of experiential and youth marketing.
Ari and his classmate, Sophie, said their favorite part of the morning was just hanging out with friends outside of class.
Even Sophie, who admitted to cheering on another NFC North team, donned a Vikings long-sleeved shirt with a smile.
"It's my twin sister's shirt," she explained. "We have a divided house. My sister and my father are Vikings fans; my mother and I are Packers fans."
Ari, meanwhile, proudly wore an Adam Thielen jersey. The young Vikings fan says Justin Jefferson has become her favorite player over the past two seasons, but she hasn't lost her affinity for Thielen.
Clemens explained the goal of introducing young people from across the state to the Vikings early to hopefully add more fans to the fold.
"We do not want [assume that] every kid in Minnesota is going to choose the Vikings," Clemens said, "but we're hoping that by giving them these fun opportunities to engage with the organization, we hope to have long-time Vikings fans who otherwise wouldn't. might not have been."
Kristin Teagarden is a fifth grade teacher at Rosemount Elementary and described the impact of the event.
"We were very excited because it was a free field trip, which makes it easier for us as an administration," Teagarden said. "Also, because of COVID, these kids probably haven't been on field trips since second grade. So it was really exciting to have an opportunity. It's in Eagan, which is close for us, and we were delighted that there was a variety of activities."
Reid Tschumperlin, a fifth-grade teacher at Crestview Elementary, expressed similar feelings while watching some of his students participate in the obstacle course.
"Our principal shared this opportunity with us, and we were super excited to do it. We didn't really know exactly what was going to happen, so the kids were excited about it but were like, 'What the hell? is going to happen? How is it going to work??' "Tschumperlin laughs. "And we said, 'I don't know. We're just going to find out. "
Tschumperlin said he was "a bit concerned" for some of his students who, because they're not specifically sports-oriented, showed some hesitation.
However, any hesitation turned to happiness when the youngsters got off the buses and saw the array of fun options.
"We used to do a lot of field trips, and it came down to nothing. The kids were excited to have a real field trip."
Clemens said the Vikings initially started talking about the field day idea in 2019, but the global pandemic put plans on hold.
Now being able to bring the concept to life was incredibly rewarding, he noted.
"We opened this Play 60 Field Day as an opportunity to get kids moving for 60 minutes, encouraging them to fuel up and eat nutritious foods thanks to our partner, Midwest Dairy, and all they bring to the program," Clemens said. "We are happy to be able to offer this opportunity for students to get out of school, enjoy the beautiful day and move. We really appreciate being able to offer these things again."