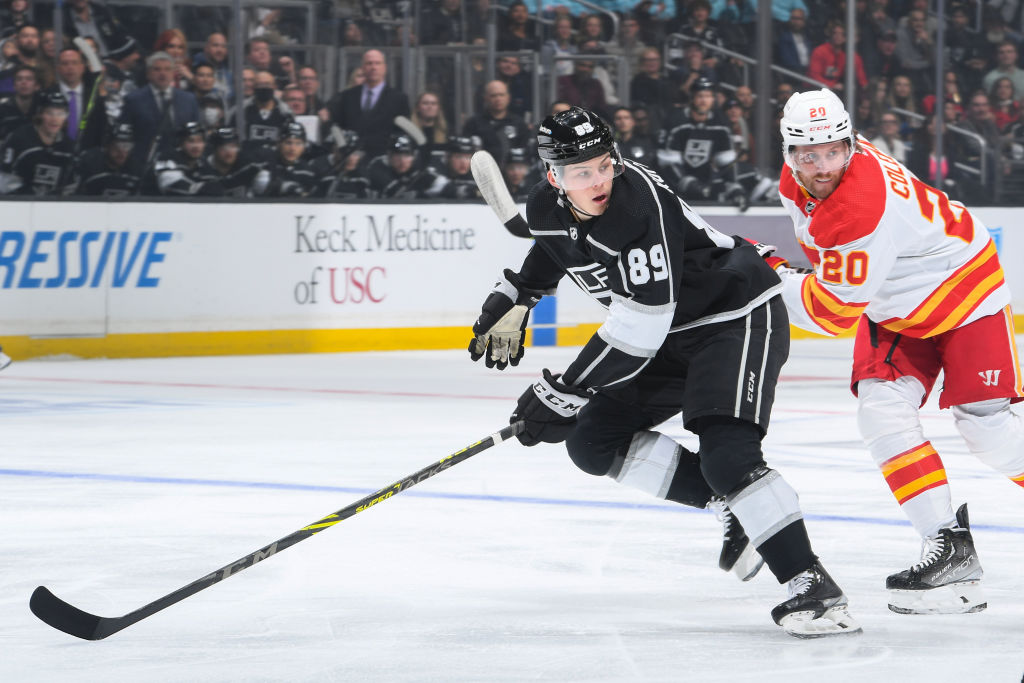 Hello Insiders!
For those who were at the Crypto.com Arena last night, it was great to meet so many of you! A close game for sure, although I think we were all hoping to go the other way. I hope everyone had a good time regardless, and I hope the event comes back next season for sure!
As for today, as Todd McLellan alluded to in yesterday's postgame press conference, the Kings were scheduled to skate today, but not in full. Several of the team's players with the most minutes weren't on the ice this morning, while those with fewer minutes were, as well as yesterday's scratches and some recovering and returning from 'a wound.
That being said, my tally had eight forwards, six defenders and two goalkeepers in action today…assuming my tally is correct, of course.
Grey: Byfield, Kupari, Vilardi
White: Andersson, Brown, Grundström, Kaliyev, Lemieux
Defenders: Bjornfot, Moverare, Roy, Spence, Stecher, Strand
Goalkeepers: Petersen, Fast
The full squad is expected to be on the ice tomorrow, with eyes on Thursday's game against Edmonton.
Injury Update
Here we are, Insiders.
The trio of Dustin Brown, Brendan Lemieux and Matt Roy skated with the full group again today, the second day in a row they joined the full group in regular contact suits. These players, naturally, seem the closest to a comeback. The next group in line appears to be Mikey Anderson and Andreas Athanasiou, but neither have joined the full group yet.
"There are players starting to skate with us again, and that's a really good sign," said Todd McLellan. "We are close with some, we are still far with others. We'll see where we are later in the week, we'll get a chance to do some good practice and maybe that will help some prepare.
We haven't seen Blake Lizotte with the full squad since suffering the injury against Seattle on March 26, while Drew Doughty has remained in practice and away but hasn't been with the squad. today.
While these players are grouped into groups, speaking with McLellan yesterday he believes the timelines currently in place will see the guys return individually, as opposed to all at once. Based on his experience in these kinds of situations, that's how he'd prefer to do it, if possible.
"One of the most dangerous things that can happen, at least in my experience, is getting everyone together at the same time, trying to get the band in tune at the same time," he said. . "Depending on the progression of injured players and scheduled returns, I'm not sure we'll have to do that. We'll see one at a time, slowly coming in, maybe two coming back into the lineup, but with practice time.
This then begs the natural follow-up question – What about those who have filled in and, in many cases, filled in admirably?
McLellan explained that while some players are healthy – meaning guys like Viktor Arvidsson when he returns, or Drew Doughty – they're going to play as soon as they can leave. This is their level of importance. Others certainly fall into this category as well and these players have earned their place in the roster when healthy. The question becomes, when you have, for example, an individual on the fence, or maybe one on either side, how does that happen?
McLellan's advice to young players eager to keep their place is to just keep doing what they're doing.
"Just keep doing what you're doing and if you're playing well, keep playing," he said. "We may have already made decisions to keep the young players in the line-up. If they performed well, they may have already earned the opportunity to stay in the line-up. Keep doing what you do is all we can really give them or tell them, and everyone showed up and did a terrific job.
dirty thirty
With his goal tonight, Adrian Kempe has now scored his first @NHL 30-goal season. He becomes the first Kings player to reach the 30-goal mark since Anze Kopitar in 2017-18 and the fourth different Kings player to reach the mark since 2009-10 (Kopitar 2x, Carter, Toffoli)

— LA Kings PR (@LAKingsPR) April 5, 2022
Adrian Kempe became the fourth different member of the LA Kings to score 30 or more goals in a season since the 2009-10 campaign.
Anze Kopitar – 35, 2017-18
Anze Kopitar – 34, 2009-10
Jeff Carter – 32, 2016-17
*Adrien Kempe – 31, 2021-22
Tyler Toffoli – 31, 2015-16
With 31-plus goals, Kempe is on course to reach Kopitar's tally in the 2017-18 campaign, a career-best 35 goals for the Slovenian. No player wearing a Kings jersey has topped 35 goals since the 2004-05 lockout (Zigmund Palffy – 37, 2002-03) with Kempe currently on pace to finish at 35 or 36, depending on management in which you swing the comma.
"I mean, yeah, it's a good step to take, I try not to think about it too much and just keep playing like I've been playing," Kempe said of the mark. "Just drive the net, keep shooting as much as possible."
All just projections, though. That would give the 25-year-old winger four or five more goals in his last 10 games this season. Kempe has shown flashes of decline in that number in four to five games, let alone ten games, but also, especially in recent years, has also dried up during that time. For a player who has always shown the talent and ability to produce offensively at this level, and a player who was drafted to become an impact player at this level, seeing Kempe score 30 goals is a great achievement.
We've seen this level of him in spurts over the past two seasons, but never for the length and consistency we've seen here this year. The proof was in the pudding with the goals.
"He's been a streak player throughout his career, we've all talked about that before," McLellan said. "His problems were that the streaks or dry spells got really lonely. This year it's been a bit long, but it's been pretty consistent. His physique, his pace, his shot show up night after night. We haven't had a 30-goal scorer here in I don't know when and he's here now. This is progress for our organization, really.
Even on the nights he didn't score, Kempe's skating, physique and offensive skills were usually on display. He used his tools and talents to counter effectively, playing well in all three areas and displaying a maturity in his game that helped him become as effective as he has been. Good signs all around for number nine.
Kupari keeps coming
It's been a whirlwind season for many of the Kings' young players this season, with forward Rasmus Kupari firmly in that boat.
Assigned to the AHL out of training camp, Kupari quickly found himself in the early NHL picture, earning a spot with others due to COVID protocols or injury. Kupari held on to the roster until the scorching days of winter, but ended up in the AHL for a series of games.
With another chance now with the Kings, Kupari has come into its own. He rarely had a vanilla game, showcasing his rare combination of size and speed, becoming a driving force on a young, but contributing third line. Now in his second stint in the NHL this season, Kupari has become a factor on a penalty kill who has allowed just one goal in his last eight games. He's gained the confidence to take on more situations, with more ice time, and he's feeling it for sure.
"Yeah, it's been huge," he said today. "I got time shorthanded, it shows they trust me and it keeps the pace going. I tried to add some physics to my game, complete my checks whenever I get the chance. Just be solid all over the ice, especially in the D zone."
Kupari has been at NHL level in the Finals each of the past two years. Last year was a disappointing season from a team perspective, but an important one for players like Kupari to get their feet wet in NHL action, both with the team still in the mix when debuting, and at the end, with things just ended.
Now, however, it's a very different playing field.
"Last year I had my first games and it's a different scenario than it is now," he said now. "We are in it. We know the systems, we know where we are now. I've had good minutes lately, I can see the confidence growing, making smart plays and playing for the team.
Todd McLellan spoke at length about the importance of these types of games for the Kings. There is no better learning experience than those being learned right now for young players like Kupari.
A full day of practice is scheduled for tomorrow, with reports to follow here on LAKI!