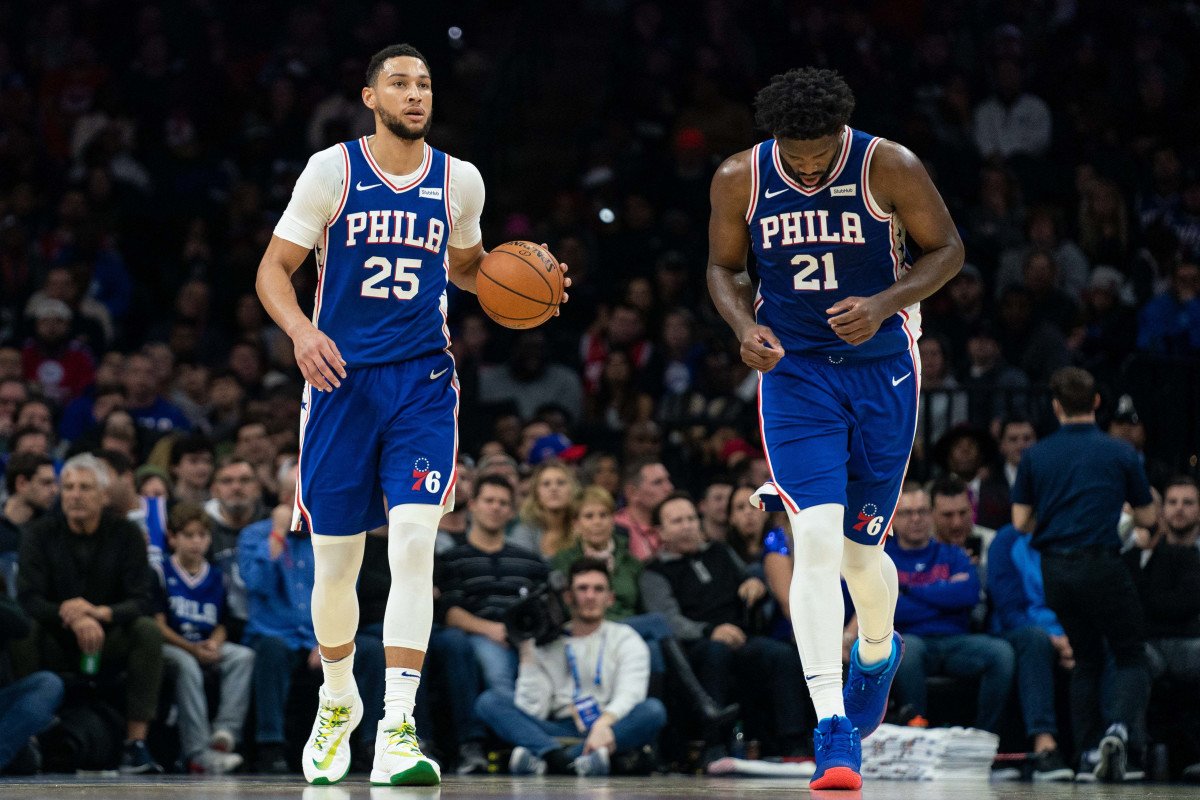 ComplexCon returns to Long Beach November 6-7 with hosts J. Balvin and Kristen Noel Crawley, performances by A $ AP Rocky and Turnstile, and more shopping and falls.
Reserve your place while tickets run out!
"He's still our brother.
That's how Sixers frontman Joel Embiid chose to wrap up his speech to the crowd ahead of the season's start at the Wells Fargo Center in Philadelphia on Friday night.
There was no way to misinterpret Embiid's message. He was referring to the elephant in the room that every sports figure from Philly to Fresno can't help but talk about, the permanent question mark surrounding Ben Simmons' future as a member of the 76ers.
Embiid is choosing to ask the Sixers loyalists to continue supporting not only the team but Simmons as well at this time is a positive step in the right direction. Just a few days ago, Embiid told reporters he didn't care about him anymore and Simmons got kicked out of training. The new outlook is likely the result of Simmons, Embiid, head coach Doc Rivers and the rest of the squad meeting early Friday morning.
"It's a first step. It's a beginning. It was good to hear from him. We're better off with him. I wouldn't mind playing with him ", Embiid told NBC Sports Philadelphia reporter John Clark at Friday night's post-game press conference.
Within the organization, things seem to be on the rise. But in the parking lot of the Wells Fargo Center before Friday night's game with the Brooklyn Nets, there were still fans not so ready to welcome Simmons with open arms just yet. Counterfeit t-shirt vendors scattered around the perimeter of the stadium were selling shirts with a 'Missing' poster for Simmons on the front banging on his sweater, something fans have been begging him to improve upon since his rookie season in 2017. On the back, Simmons' was superimposed on the Mister Softee logo. One salesperson simply said that Simmons was "out of his pocket", but encouraged him until he started "doing all this bullshit."
"At this point, let him go," he said of Simmons' situation. "It's going to be tough to have a 6'10" guard with grips. "
Other fans had chosen to polish up their old jerseys and t-shirts, crossing out "Simmons" to read things like "Clown" or "Frosty Maker" (a clever nod to Simmons' low free-throw percentage and fan favorite Frosty Freeze -Promotion with Wendy's that occurs at every Sixers home game).
"If he can put his ego aside a bit with Embiid and know he's our second player, we can make some noise in the final," said Eric Berman, proudly wearing a retro Allen Iverson jersey. "He just needs to get a jump shot. We're not asking him to shoot three and be Stephen Curry. Just hit a few free throws. Don't be afraid to go for dunks. I don't hate him or anything. I just think he's weird right now.