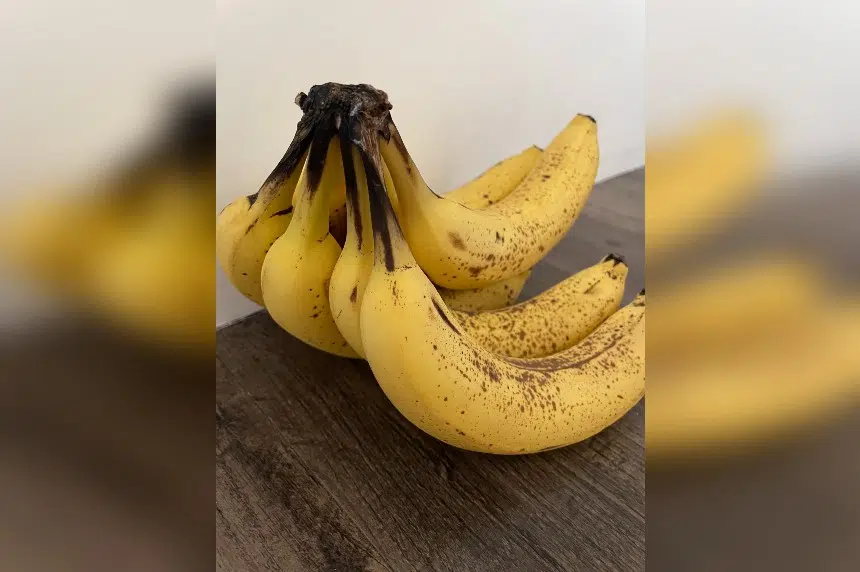 You don't have to worry on this April Fool's Day: the Saskatoon Blades haven't lost the plot…but the team is crazy.
Since the Blades' Friday night game against the Moose Jaw Warriors falls on April 1, the team thought they'd have a little fun with the occasion.
"It's not a Blades game, it's a Bananas game," explained Tyler Wawryk, Blades director of business operations. "It's the same great players (and) the same great product, but there's a bit of a different logo on the front of the shirt and we decided to change the name and have a little fun.
"We pride ourselves on entertaining our fans and creating a fun atmosphere and for April Fool's Day we're just speeding things up which should create a fun atmosphere. It's shaping up to be a great game against the Moose Jaw Warriors as it looks like these two teams will meet in the first round of the playoffs, so it's going to be a fantastic game on the ice and in the arena for our fans as well. "
The blades are sponsored by Save-On-Foods and with ripe bananas on the shelf, it seemed fitting to go with what's readily available in the sponsor's produce aisle.
And it's all done for a good cause: the jerseys worn by the players will be auctioned off to raise funds for the Jim Pattison Children's Hospital Foundation.
Jerseys definitely have a banana twist.
"At first glance, you might not notice much different from our original third jersey. They're gold like our third jersey. They have a few touches on them. Where it usually looks like 'Saskatoon' it says, 'Go bananas.' We also have bananas on our socks and helmet," Wawyrk said.
And if you're crazy about bananas but not necessarily hockey, there's fun off the ice too.
"There will be things to spot and see when fans arrive at the doors, (like) special concessions that you wouldn't normally see. We have banana splits and even banana daquiris for adults," Wawyrk said.
The puck drop is 7 p.m. at the SaskTel Center — but be careful not to slip on all that banana peel.