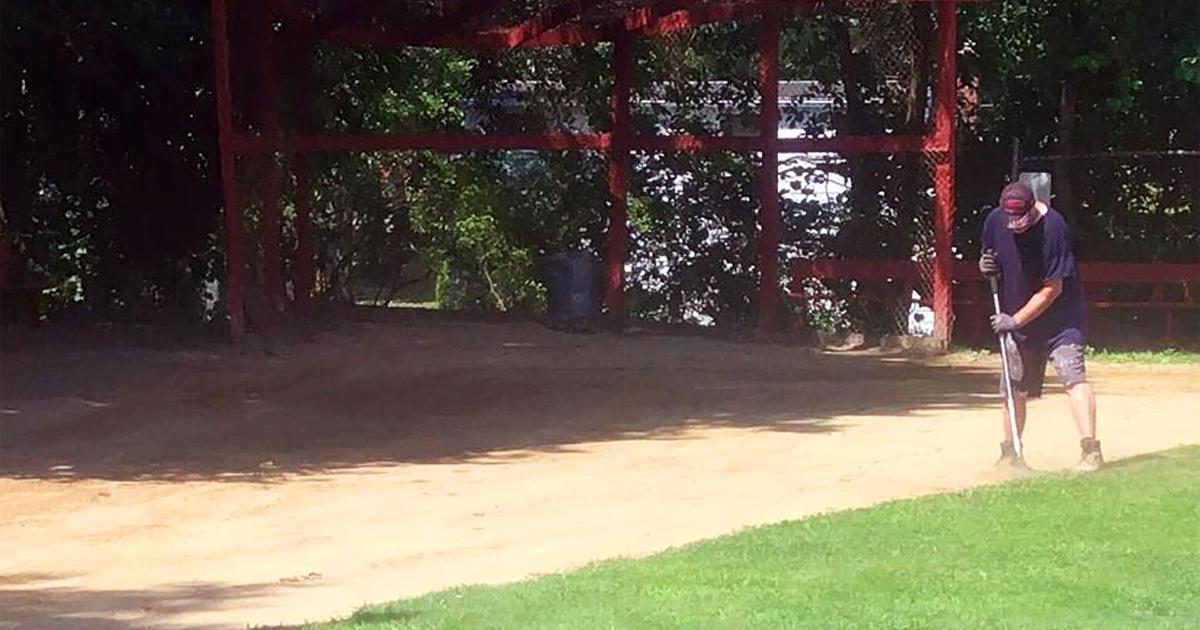 It's New Castle Christian Academy, but it's not heaven.
Nor is it Iowa.
But a field that was in Don Staransky's dreams was built there, and when it opened for its first action earlier this month, more than 40 children showed up.
Staransky, whose grandchildren attend the academy and who leads a ground crew that mows his grass, once discovered a relic of his past and that of the Clen-Moore Presbyterian Church, which owns the property.
Almost hidden in plain sight in the southwest corner of the field was a long-forgotten ballcourt backstop that had been swallowed up by the wooded area around it.
"Everything was overrun with all kinds of stuff," said Staransky, a direct care worker at the Lawrence County Association for Responsible Care. "As I was cutting the grass, I thought, 'I'll think about doing this again if they let me. It actually belongs to Clen-Moore, but I got their permission to redo the backstop and put in an infield, and that's what we did.
"It was a bit rotten," he said of the backstop. "We cut down all the trees and all the vines that passed there."
Staransky doesn't know when was the last time the backstop dominated a batter, catcher and umpire.
"I'm 51 now and I remember playing (mixed softball) there in my twenties," he said. "My grandkids have been going (to Christian Academy) since kindergarten, so it's been six years anyway since I've noticed anyone doing anything with it."
In addition to restoring the backstop, Staransky and a team of volunteers including members of his field crew and family also created an infield in front of him. Although the site once hosted adult players, Staransky has created its course with basic courses suitable for youngsters.
But that didn't mean the transformation was cheap or easy.
"We brought about 77 tons of soil," he said. "It cost me well over $3,000 to build the infield. It's dirt, and the equipment I had to rent to tear it up and lay the dirt down.
"That, and I bought all the shirts and hats for the kids (part of a program Staransky dubbed Christian Crusaders)."
The field saw its first action on September 10, when more than 40 kids wearing powder blue Christian Crusaders jerseys and caps turned out for baseball and a pizza night.
New Castle Christian Academy Principal Gary Heotzler threw the first pitch.
"Don's been working on it since late spring," Heotzler said of the diamond. "It was his desire to be able to provide baseball lessons and skills and drills to the kids in the school. Sometimes baseball games can get pretty intense. it's just kind of a more relaxed atmosphere, learning the skills of the game.
"He also participates in the Y Indoor Soccer League with our children. In fact, it started last year when he gave it to children at the Christian school. Then we wanted to expand into baseball.
And the hits will keep coming.
"We are working on having an actual season next year, bringing together three teams – a T-ball team, a coach pitching team and a player pitching team – to give the kids an introduction to the field," Staransky said. "The kids are looking forward to it, and once we have that in place, hopefully next spring we can start inviting city teams and county teams to come and play with us."
Heotzler said Staransky is also planning fall workouts as a preliminary to his 2023 plans. Like the youngsters, Heotzler, too, can't wait.
"We're excited about it," he said. "When I arrived here in 2016, we were down to 120 children. We really didn't have the children to offer sports. Now our number is around 225, and we have the number of children to be able to do it.
"We have always offered archery; it is our sport. But football started last year and now we have baseball starting this fall, and we are expanding into basketball and offering girls volleyball right now. It's really nice to see that we have the numbers that allow us to go ahead and have the teams and teach the kids the skills of the games.