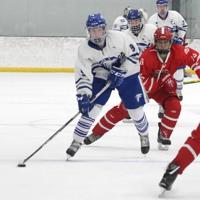 Last name:Jake Ryan
Age: 18
Height: 5 feet 10 inches
Weight: 160 pounds.
High school: Upper Danvers
Hometown: Danvers
year at school: Senior
Position: Center
What type of skates, stick and helmet do you use?: I wear Bauer Vapor skates which are molded to fit me, which helps me improve my speed and agility on the ice. For my stick, I use the Bauer Vapor Hyperlite because I like the way it feels, and it matches my quick-release style of play. For my helmet, I wear the CCM brand since I started skating. In first year, the team went from a cage to a bubble; it took me a while to get used to the bubble, but i really like the way i can see the game better.
What is your favorite thing about being a hockey player?: Be part of a team. Several of my current high school teammates and I have been playing together since we were mites. We have traveled to Chicago, Philadelphia, Lake Placid, Montreal, Cape Cod and so many other places for tournaments and games. We have become a family, not just teammates. Plus, nothing beats celebrating with your teammates after scoring a goal.
What part of your game did you once consider a weakness, but is now a strength?: I would say my stickhandling and shooting have improved over the years. I contribute to my improvement by spending many summers participating in a 10,000 puck shooting challenge with my 2004 Islanders hockey team. Shooting 10,000 pucks each summer has helped me work on my hands and release quickly my shots.
How does it feel to have a father who is the head coach of another hockey team on the North Shore?: My dad (Rob, the head coach of Hamilton-Wenham) was one of my coaches when I played for Danvers Youth Hockey, and also during the seven years I played for the hockey team of the '04' Islanders. Hockey is not just a sport in our family; it is our way of life. For as long as I can remember family dinners, weekends, matinees and late nights have been all about hockey. Ever since I started high school, there have always been fun banter between my dad and me about which team is the best, who had the best game, who didn't, and who is going to make statements . This year has been exciting as we have added my younger sister, Meghan, to the mix. She plays for the Beverly/Danvers Girls' High School varsity hockey team as an 8th grader.
Tell us about a book you couldn't put down once you started reading it: When I was in college, I liked to prepare the series 'Diary of a Wimpy Kid'. Then someone introduced me to Japanese manga such as "Attack on Titan", which made me want to learn to speak Japanese. So far, I have only taken informal studies online to help me learn, but I hope to continue in college and even do a semester abroad in Japan.
If you could change one thing about your Danvers uniforms, what would it be?: A gray third jersey with blue and white numbers would be cool.
Speaking of uniforms, if you had enough money to buy three hockey jerseys in the world, which ones would you buy?: 1. Patrice Bergeron's Bruins jersey, because it's thanks to him that I play at center. I admire how he is a two-way player, is always in the right position at the right time and is a team player. 2. Meghan Duggan's Olympic jersey, because she's a local player. 3. Brad Marchand's Bruins jersey, because he gives him his all when he walks on the ice until he comes out.
Fill in the blank: Danvers Square's ultimate roast beef is… : Uh, you mean Nick's Roast Beef in Beverly? Junior beef, sauce and cheese.
Who is your favorite high school athlete to watch play?: Luke Llewellyn (athletics), because he gives everything he has when he sets foot on the track. Then make sure he does even better next time. Commitment, focus and determination are just some of the ways I would describe Luke. One of the best moments last year at a track and field meet against Masconomet was watching Luke race against another top contender from the state. Everyone on the field stopped what they were doing to watch until Luke crossed the finish line first.
Can you tell us about your plans after graduation?: I plan to go to college and get a bachelor's degree in computer science. I'm still deciding which school. My plan, once I pick a school, is to look into club and intermuro options and hopefully get on the ice for my varsity team.
What do you think of the new state tournament format with power rankings being used?: The new format allows us to still play our regulars (Maconomet, Gloucester, Beverly, Winthrop) but also gives us the opportunity to play teams that we have never had before (Wakefield, North Reading, Chelmsford). Also, I grew up on long car rides for most of my hockey games, so it would be fun to hang out with the boys on the bus on a long trip.
– As said to Phil Stacey