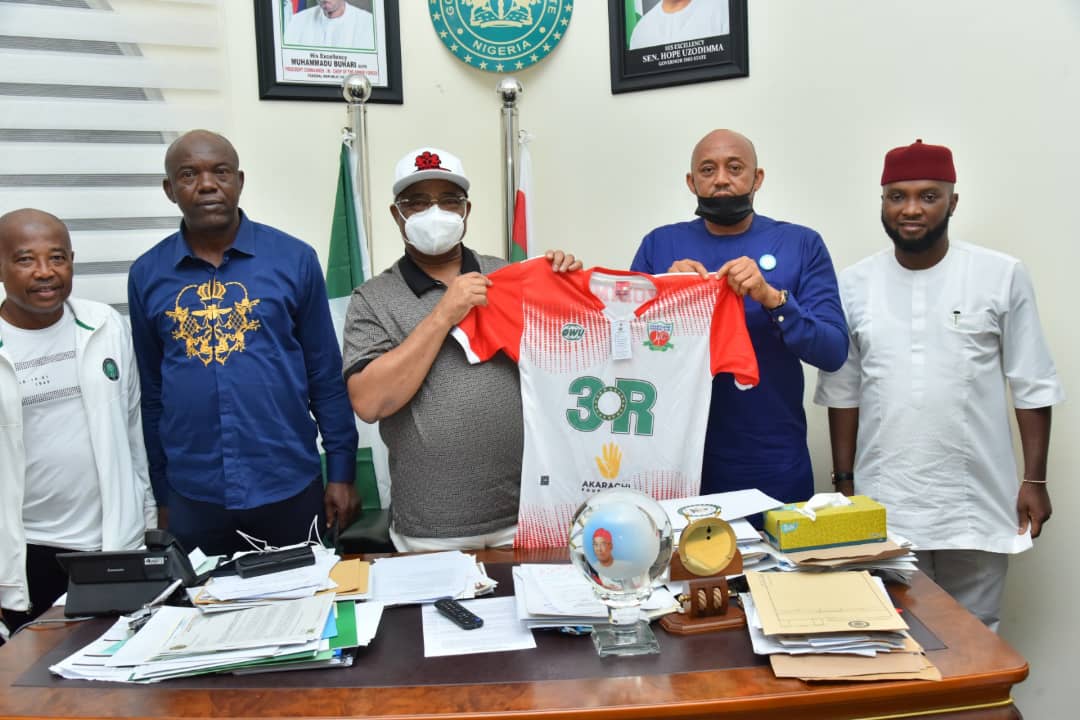 Distinguished IMO Senator Hope Uzodinma's Number One Citizen at Government House unveiled new sets of shirts for Heartland to use for its campaign in the new NPFL season. In a brief ceremony at Douglas House, Governor Uzodinma greeted the Heartland hierarchy.
The Deputy Speaker of the Imo State House of Assembly, the Right Honorable Amara Iwuanyanwu, introduced the Heartland contingent to the Governor, which includes Acting Director General Promise Nwachukwu, Hassan Abdallah, Technical Advisor, and Solomon Onu the director of the media.
He praised Coach Abdallah for restoring discipline and sanity to the team while urging him to do more to help Heartland find its way back to victory.
Responsive coach Abdallah expressed gratitude to the governor for his support and pledged the visit will motivate his boys to donate more than 100 percent.
The Acting General Manager, Mr. Promise Nwachukwu, showed up to do the honors and presented the new sets of jerseys to the number one citizen who was very pleased with the quality.
"Wow, the jersey is beautiful and also has quality. Thank you for the honor of unveiling the new jersey. Heartland is our pride and as a government we will continue to support our team "
He also congratulated the club's supervisors, Rt Hon Amara Iwuanyanwu (Vice President) and Hon Dan Ogu (Youth and Sports Commissioner) alongside Chief Whip Hon Chigozie Nwaneri.
"I am happy with your leadership and the way you are running the ship and hope this season will be totally different"
In Heartland's opener this weekend, the governor urged the team to pull out all the stops and give the Imolites the victory they deserve.
"I understand you have a game this weekend, the commissioner will be back for us to sort everything out and I think you will win to give the people of Imo the victory they deserve"
Heartland will unveil its new recruits on December 17, 2021 at Dan Anyiam Stadium at 4 p.m. ET.
The team will continue their first game of the season on Sunday against Nasarawa United at Dan Anyiam Stadium at 4pm.