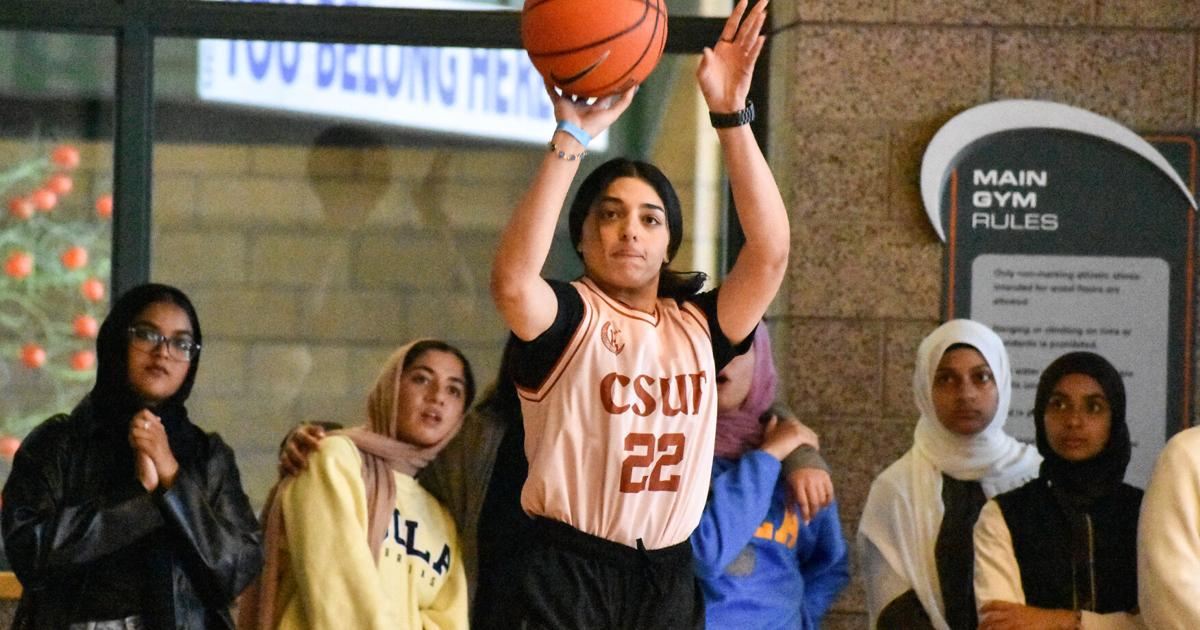 The CSUF Muslim Student Association emerged victorious on October 23 in a basketball tournament to promote unity and raise funds for Muslim youth.
The tournament was dedicated to Charity Week, a Muslim youth project devoted to raising funds for orphans and children in need. Over 550 people attended the event this year.
CSUF and other universities gathered at UC Irvine's Anteater Recreation Center for a one-day basketball tournament that kicked off Charity Week. This year, Charity Week took place from October 24 to 30.
CSUF men's and women's teams have won four games each against teams from Cal Poly Pomona, Long Beach State, UCI, USC, Cal State Northridge, UCLA, UC Riverside, Cal State San Bernardino and UC San Diego. In the end, the results ended in a double win for both CSUF teams, earning each team first-place trophies.
"I am very proud of my team. I feel like it was well deserved," said Cindy Hajjar, a fourth-year kinesiology student who coached the women's team. "We got to work. We put in the hours.
Southern California University Muslim organizations had the opportunity to connect with their community while raising awareness for an important cause.
"The theme was 'Unity: United We Win,'" said Usman Qazi, MSA event coordinator who helped coach the men's team. "As Muslims, it's really important that this unity is there for brotherhood and brotherhood."
The tournament included an auction organized by Charity Week and Islamic Relief, another non-profit organization that works to support people experiencing poverty. In the first round of the auction, students bid up to $350 for a Muhammad Ali t-shirt.
Those who attended got into the spirit of the game with personalized jerseys, handmade posters and team chants as the backstage filled with spectators from all ten schools.
"They trained so hard and they looked so good," said Hana Rafiqi, a fourth-year business student. "I didn't know they were that good, so it was really fun to be able to cheer them on."
CSUF played Long Beach State in the first round, allowing them to advance after picking up their wins. The women's team won 32-18, while the men's team won 28-17.
The CSUF women's team won against UCSD in their second game and went on to play against UC Riverside in the semi-finals. In the final they played against UCLA and won 24-6.
The CSUF men's team won a game against CSUN and advanced to the semi-final against USC. For the final game against UC Riverside, the men's team won 38-22.
This event was an opportunity for the students to meet other Muslim students from different universities, said Sami Bajwa, vice president of the MSA and coach of the men's team.
"Seeing how we all hang around like we're all friends who have known each other for a long time, I think it brings a sense of togetherness," Bajwa said.
The wins represented victory both on and off the pitch.
"The fact that it was a fun activity, it brought everyone together. It's really very nice to see this environment; to see our friends from other MSAs," Hajjar said. "I met a lot of new people. We had positive interactions based on that event, so I'm really grateful for that. It just brought the community together.
Qazi said they will take these new connections with them as they plan for MSA's future.
"We were all able to come together for a fun, competitive, but also important cause and just build our unity," Qazi said.