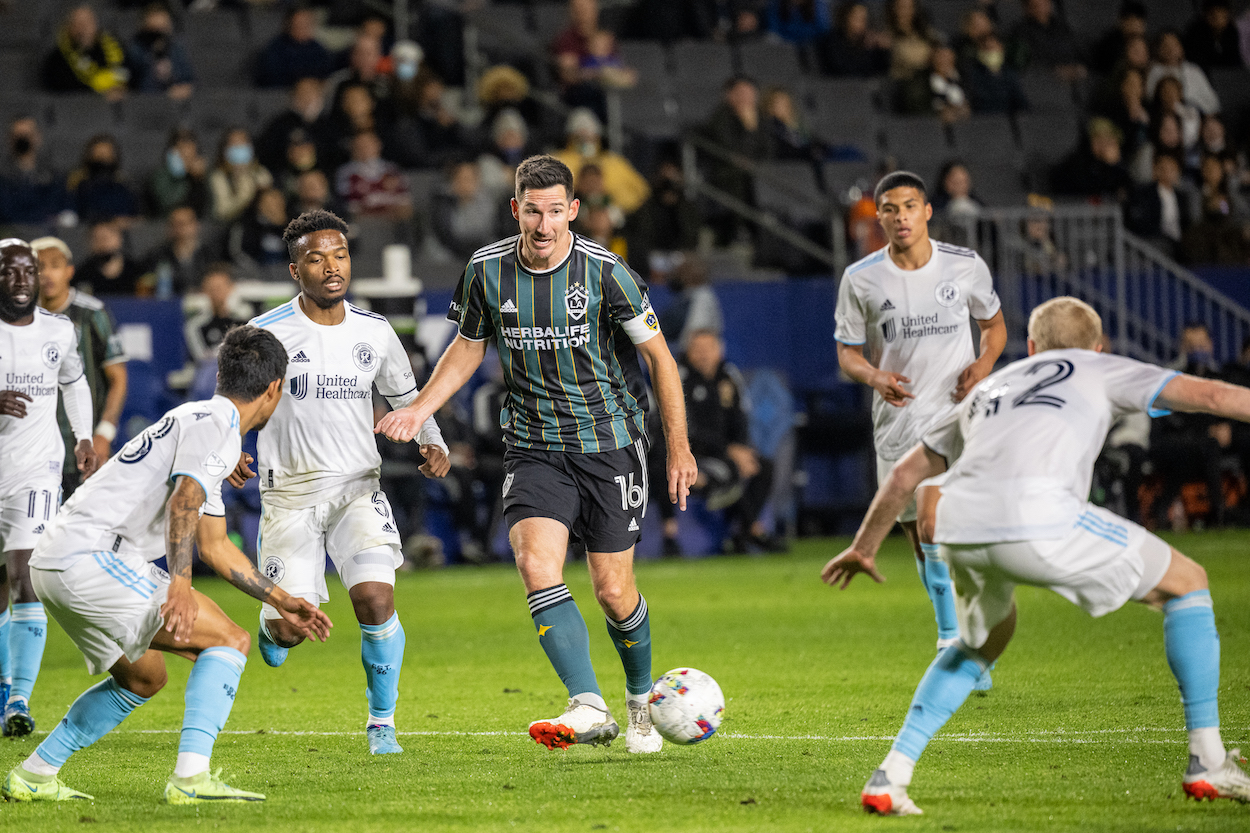 Just over a decade ago, Sacha Klijestan was an American football star playing for Major League Soccer (MLS) club Chivas USA in Los Angeles, California. Chris Hegardt was an 8-year-old football player at a children's hospital in Los Angeles who was battling cancer.
Fast forward 12 years, and the two footballers met again, this time on an MLS ground. The two midfielders – linked by a chance encounter years ago – commemorated the incredible occasion with an emotional shirt swap at the end of Charlotte FC's historic first-ever home game against LA Galaxy.
Chris Hegardt and Sacha Kljestan met at Children's Hospital LA in 2010
A football game saved Chris Hegardt's life.
In 2009, the 7-year-old was hit in the stomach with a ball during a youth soccer game, according to SoundersFC.com. He fell ill afterwards, had to go to the emergency room. There, doctors discovered that the bullet had ruptured a cancerous tumor on his liver.
Over the next few years, Hegardt underwent a total of six rounds of chemotherapy and a liver transplant. At one point, the San Diego native's battle with cancer brought him to Children's Hospital Los Angeles, one of the top pediatric hospitals in the country.
It was there that Hegardt was able to meet someone who was living his dream, MLS and U.S. Men's National Team star Sacha Kljestan and his wife.
The football-loving kid and pro star took pictures together, and Kljestan presented Hegardt with a jersey. The two went their separate ways and apparently didn't meet again until Saturday, March 5, 2022.
The two professional footballers swapped shirts after facing off in 2022
Chris Hegardt finally beat cancer and became a football star in his own right. In 2011, he won a national youth soccer championship with his San Diego surf team. He then practiced this sport at Georgetown University.
Hegardt made his professional debut in 2019 with the Tacoma Defiance (part of the Seattle Sounders organization) and trained with the Sounders first team. In January 2022, the Sounders traded Hegardt to the Charlotte FC expansion franchise.
While 20-year-old Hegardt stood on the sidelines in his first-ever MLS home game (and Charlotte's), 36-year-old Sacha Kljestan was on the opposite sideline for the LA Galaxy.
Kljestan entered the match just after half-time due to an injury to Victor Valdez. Hegardt entered the game with three minutes left in regulation time.
After the final whistle in a 1-0 Galaxy win, the aging star and rising talent met near midfield. The pair have committed to the football tradition of swapping shirts.
During the touching moment, captured on video, you can barely hear Kljestan say to Hegardt, "I'm just glad to see you, man" and "you never know what's going on," apparently referring to the sick children the professional players visit hospitals.
Kljestan then told Hegardt, "I look forward to following your career."
Charlotte FC v LA Galaxy match set MLS attendance record
While some will remember the personally significant moment match between Sacha Kljestan and Chris Hegardt, the contest was also historic.
In Charlotte FC's first-ever home game at the Carolina Panthers' Bank of America Stadium, the game against the LA Galaxy drew an incredible 74,479 attendees, breaking the all-time MLS attendance record of 73,019 established during the 2018 MLS Cup contest between the Atlanta United and the Portland Timbers at Mercedes-Benz Stadium in Atlanta, per MLS.com.
The match was a tense affair. The Galaxy dominated possession and scoring chances throughout the game, but Charlotte held on, keeping a clean sheet for most of the game and creating jaw-dropping chances of their own.
LA won the game when 19-year-old Efrain Alvarez scored seven minutes after entering the field to give his team their final score of 1-0.
It was an amazing game all around and one that Kljestan, Hegardt, Alvarez or any of the over 74,000 spectators won't soon forget.
As Sports broadcasting on Facebook. Follow us on twitter @sportscasting19
RELATED: LA Rams owner Stan Kroenke gets crushed by Arsenal fans after winning the Super Bowl