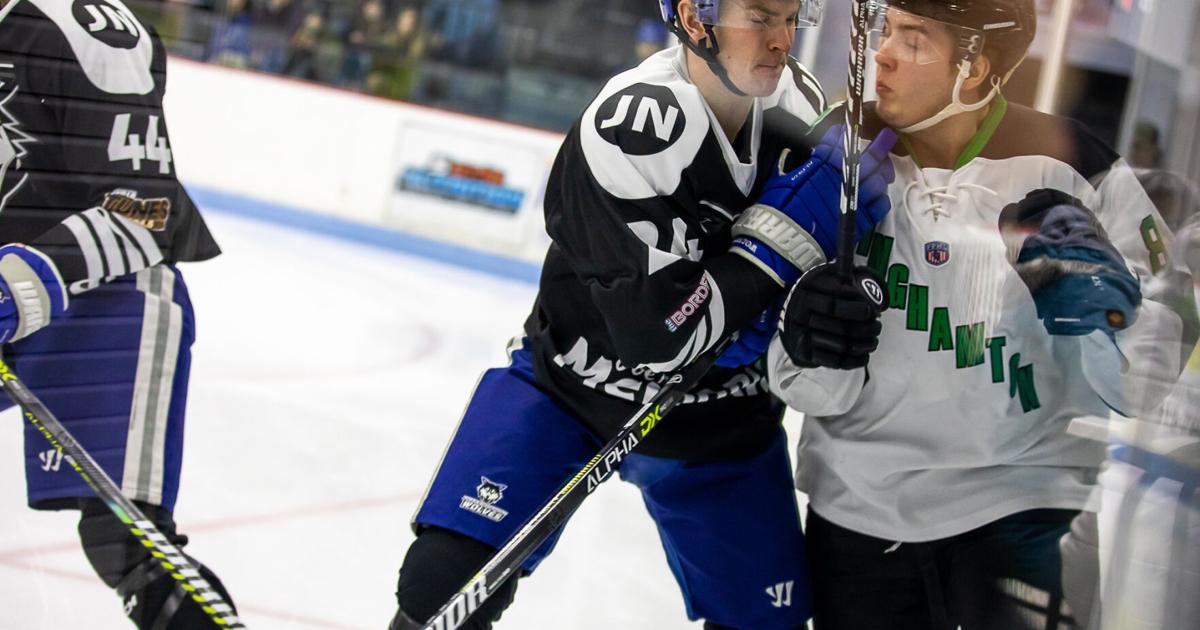 WATERTOWN — Andrew Harrison isn't sure how the puck went in or exactly how he scored in overtime, but he'll accept it.
Harrison, who scored twice on the night, scored unassisted a minute and 47 seconds into overtime to lead the Watertown Wolves to a 6-5 triumph over the Binghamton Black Bears on Friday in a Federal Prospects game. Hockey League in front of a season best crowd of 1,040 at the Watertown Municipal Arena.
His tally completed a comeback for Wolves on a night that looked to have a playoff feel to it.
League-leading Watertown (31-8-1) trailed 5-2 in the second period, but stormed through with four unanswered goals to win.
"We put ourselves in a hole there, we didn't get a great start and had a few bad rebounds," Harrison said. "But we showed some determination as a team and it was a good comeback."
Harrison collected a loose puck and headed for the Binghamton net, but was knocked down by a defender and slid into Black Bears goaltender Joseph Sheppard.
"I was coming in the middle and their guy tried to throw it at one of their guys across the ice and I picked him up and thought I had a step on him," Harrison said. "I just tried to shoot hard towards the net and I got taken down and had a lucky rebound."
A referee raised his hand to signal a penalty, but the puck ended up in the net for the game winner.
"When I was cutting towards the net with the puck he tripped me as I was going down, I was glad we were on the power play and could go finish him," Harrison said. "And I saw the ref pointing and all the guys came and jumped on me, I didn't even see him come in.
"You know what, I don't even know, I think it just bounced off the goalie and I guess the hockey gods were on my side on that one."
Justin MacDonald had four points for Wolves, including three assists, and scored the tying goal with 5:10 left in regulation.
Wolves won their last game in extra time, also against Binghamton, 4-3 at home on Sunday. MacDonald scored the decisive goal in extra time,
"We just kept nibbling and we didn't give up and got the win in the end," Harrison said.
Watertown, Danbury and Columbus have already clinched berths in the playoffs which begin next month. A playoff berth remains up for grabs and Binghamton entered in the latter spot.
Cole McKechney, who sparked the comeback with a goal late in the second period, finished with two goals for Watertown, who now lead the season series with Binghamton 11-2, including 10 of the last 11 meetings.
"I've been here for about three weeks now," Harrison said. "So I enjoyed it a lot, we have a great group and it's fun to be in first place."
Binghamton (22-18-1) scored on each of its first two shots of the game, including Justin Levac's goal at 1:07, which was assisted by Nikita Ivashkin. Ivashkin followed with his goal at 3:38 – his 47th league-leading goal.
Ivashkin's goal chased away Wolves rookie goalkeeper Breandan Colgan, who this week was reassigned to Watertown by Quad City of the Southern Professional Hockey League. Rookie goaltender Adam Beukeboom stopped 30 of 33 shots the rest of the way, including two in overtime, to claim the win.
Watertown drew 2-1 with 8:51 remaining in the period on Jonny Bonta's unassisted goal as he came from the penalty area and converted on a partial breakaway, scoring after rounding a defender from Binghamton. The Black Bears led 3-1 on Thomas Aldworth's goal with 1:22 left in the period.
After Ivashkin scored a power-play goal 40 seconds into the second period, McKechney followed with his own power-play goal at 7:38, but the Black Bears led 5-2 on Tom Tracy's goal. at 9:21.
Wolves managed to shoot within 5-4 as McKechney scored with 1:25 left in the second period and Harrison scored a power play goal 2:34 of the third.
"It's our starts that really hurt us and eventually we have to change that because we want to start our games stronger," MacDonald said. "At least we were able to come back. We were frustrated after the first half but we hung on and I think you could see throughout the game that we gradually became more and more dominant.
Binghamton's Sheppard stopped 43 of 49 shots he faced.
Wolves wore special black jerseys in honor of Joseph Nunez, a Thousand Islands graduate who died in September aged 34 after a battle with cancer. The team then auctioned off the jerseys.
After Watertown plays Binghamton at 7 p.m. tonight, it will host Binghamton at 4 p.m. Sunday at the Fairgrounds.
Sunday's game will also be the last regular season meeting between the two teams.
not NOTES: Harrison, now 34, played for the Watertown Privateers during the 2013-14 season. … Friday's turnout was a season high, eclipsing the previous high of 1,003 on Nov. 19 against Danbury. … Former Wolves striker Tyler Gjurich has registered a pair of assists for Binghamton. … Ivashkin entered the night tied for the league lead in scoring with MacDonald, who scored 46 goals. … Wolves striker Alexander Jmaeff, who is Wolves' second-highest goalscorer, is not with the squad as he has been furloughed. … Watertown also placed forward Larry Yellowknee on the 30-day injured reserve list.