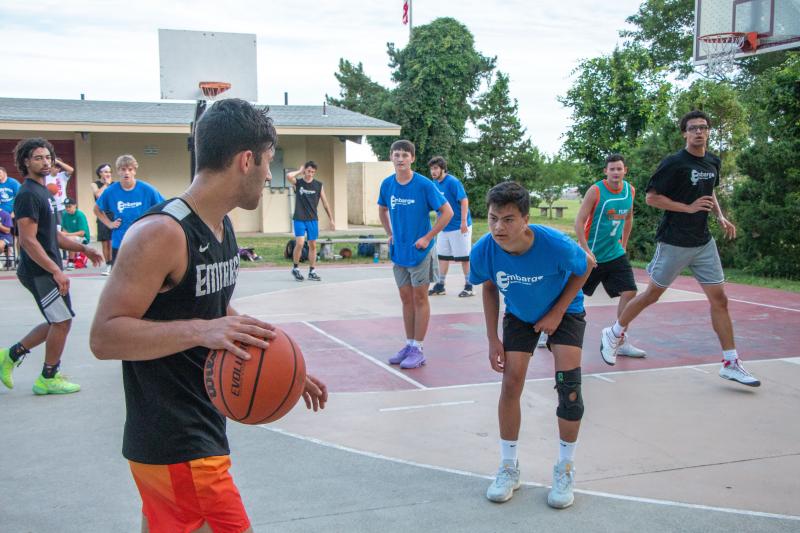 MARION – Michael Pardo has played basketball on and off his entire life. From pickup games to the JV team in Tabor, he's always loved playing the sport and the camaraderie that comes with it.
But for those who don't take the next step to playing college ball, most organized sports stop after high school, leaving many casual players without a sports outing.
This lack of access to competitive sports led Pardo to call his friends – and their friends, and the friends of their friends – and organize a summer league that quickly reached over 60 players.
"I know a lot of kids in the area who still love to play basketball, but don't have access to more competitive leagues or organizations," he said. "So it's kind of a way to play pickup but also to make it a little more competitive at the same time."
Pardo, a Tabor graduate whose father teaches history at school, is now studying entrepreneurship at Babson College in Wellesley but is still returning to Marion this summer.
He said he knew he wanted the league to play at Silver Shell Beach, so he worked with Marion's Recreation Department to find parking for the players and find times when they could reserve the field for the league. He also collected payments from over 60 players to pay the fees, which he said he would work in advance next time around.
"Next year, if we do it again, I will definitely have to get all the payouts before the league starts," he said.
Although Pardo was the mastermind behind the league, he had the help of his friends to start it up, especially Dylan Cantara from Fairhaven who volunteered to have shirts made for the league on the cheap if they could name it after its podcast, the Embargo Show.
Thus was born the Embargo Summer League.
Cantara, who studies finance and management at UMASS Dartmouth, said he charged $ 10 each for the jerseys, which cost him around $ 15. He paid the difference to market his podcast, which he launched in April, which covers everything from sports to finance to mindset.
Besides the matching jerseys, the two have done a lot to make the league more than just a pickup.
"We are trying to make the games as official as possible," said Pardo. "We play 18-minute halves; we do free throws; we have volunteer referees… and we also have people who do the scoreboard and keep track of the points for each player.
Pardo even created an instagram account, @embargoleague, to post scores, schedules and accolades as "player of the week".
Cantara said the league is so important due to the lack of activities in the area for young people after high school.
"Pretty much after high school, there's nothing left," he said. "So we wanted to create something that people after high school can participate in."
Pardo and Cantara said when they started organizing the league they hoped to have enough players to field four teams, but ended up having enough for six straight away.
"I hope that next year we can extend it," said Pardo. "A lot of the kids in the league have come here to tell me that they've talked to people from other cities who have heard of the league and want to participate. So I hope that next year we can have more teams.
Currently there are three teams made up of players from Tri-Town, two from Fairhaven and Acushnet, and one from Dartmouth and despite a range of skill levels they have managed to stay even.
"All the teams have been competitive," said Pardo.
The league played its last regular season games last weekend, but Pardo has announced that they will play a knockout tournament next weekend, August 6-8, to close out the year.