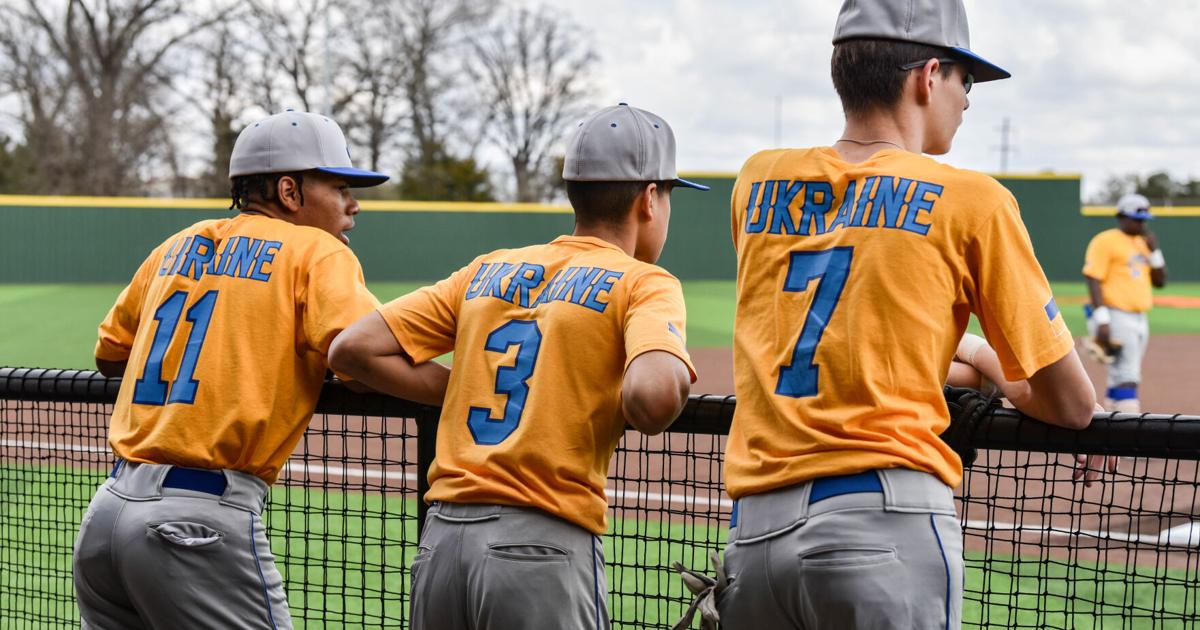 Freedom is not free.
It was part of the message that Jacksonville High School baseball head coach Branson Washburn wanted to send by having his team wear jerseys in the colors of the Ukrainian flag and with his name on the back during a tournament on Friday. at Grand Saline.
Washburn said that as Russia continued to attack the Eastern European country and the conflict escalated, he felt the need to show support for Ukraine.
"Our boys, like all of us, follow the conflict. I thought about what I could do as a person and as a baseball coach," Washburn said. "Honestly, it's a pretty helpless feeling, but I decided to have shirts made in Ukraine colors and say Ukraine on the back where a last name would go."
The team wore the jerseys Friday at the Grand Saline baseball tournament.
Washburn said while his players were having fun playing baseball, Ukrainian teenagers were picking up guns to defend their country.
"We want our brothers and sisters in Ukraine to know that we see them," he said.
Washburn said the gesture of support was also an opportunity for his team to show that there are more important things in life than a baseball game.
"Freedom is not free. It gives our players the opportunity to divert any attention that comes their way to the youngsters in Ukraine," he said. "It lets people know that there are many more important things than a baseball game and allows our children to have a better perspective of the cost and the sacrifices it took for them and me to have the freedoms we have in this great nation."
The shirts were made possible by local custom clothing store Jesta Designs who worked through the night to get them ready for the tournament and donated them.
Stacie Hack, who owns the shop with her husband Jessie, said the couple felt compelled to help. She also said the couple's sons, Braden and Brennon Hack, play on the team.
"It's great that Coach Washburn and the team want to show their support, and it's a great way to do that," she said. "By making and donating the jerseys, it's a way for Jessie and I to give back and show our support for Ukraine and the baseball team as well."
The couple made a total of 16 jerseys with the American flag on the left sleeve and the Ukrainian flag on the right.
Washburn said he hopes the gesture will show his support and give his team more appreciation.
"We just felt it was a way of letting young Ukrainians know that we see them and support them," he said. "And hopefully that will give our young players a greater appreciation for the freedoms that we have in this country."