If you haven't had the chance yet, I recommend checking out the latest Territory Discussion Podcast episode with Bill Lindsay.
It's always cool to hear from guys that have been there and done that and Lindsay gets a good look as usual – with the added benefit of being an original Panther.
One of the most important things he says is that for years the feeling surrounding the Panthers was to make the playoffs. Now that has changed to what can you do in the playoffs?
There is no doubt that this team is structured for post-season hockey and could be set up for serious success over the next 5-10 years, as Lindsay points out (although 10 could be a bit long. ). As we've discussed before, anything that isn't at least a second-round appearance is a loss for this organization – it would symbolize / add to the playoff purgatory the Cats have been stuck in for years.
So how are they doing this season back in the Atlantic Division?
Although this is a tough division, Lindsay believes they have a pretty good shot. When you look at the mix of teams, it looks like a precise statement:
BOS – still very good, but has an aging core (as Lindsay points out)
TOR – can be strong initially and do some damage but the postseason is their Kryptonite
TBL – defending champions two years in a row, has subtracted a lot of guys but will still be mean
OTT – building a team of the future but not yet here
MTL – question mark, as Lindsay said they could go from Cup Finals to miss the playoffs
DET – rebuild with the magic of Yzerman pulling the strings
BUF – Eichel Drama
It should be a fun race to watch FLA, BOS, TOR and TBL trade punches in the standings all season long – with each team battling for the top spots in the division.
The best thing Florida can do is get off to a hot start like they did last season. Beat the teams you should beat and compete with the ones you should compete against. Build that trust early on.
Bill's thought that the goalie is the biggest question mark on this team is valid, but not the most important to me. Will Bob get back in shape? Does the preview we saw of Knight show he's ready?
Personally, I believe Knight will lead Bob and there will be some healthy competition there. I don't necessarily want to see Knight just yet. Let him learn during the regular season in a real backup role. If something does happen and it does eventually take over, so be it, but don't rush.
I know the fans want it, but gut reactions at the net from coaches can be a bad thing. I think Bob and Driedger's handling in the first round was an example of that and a Q misstep certainly didn't lose the net in my opinion, but was substituted. It turned into a three man saga in the blue paint which looked a bit silly … I guess (hope) Bob will use this situation and Knight biting his heels to propel him into being the No. 1 to justify those $ 10 million a year a bit. But we'll have to wait and see.
The most interesting thoughts Lindsay shared revolved around Joe Thornton.
When the announcement was made of Jumbo's signing with Florida, I was excited, but surprised to see a number of fans chasing the signing. I know we all thought 'another striker and not a defender? But as Lindsay points out, the Cats have added a future HOF player for next to no money and who is basically a player / coach. Having him and Hornqvist in the locker room is going to add wisdom and pedigree to these guys.
Lindsay adds that as she got older, Thornton was able to adjust her game appropriately. When his score started to stop at the rate it once was, he changed his game to find a way to stay relevant and productive. The adjustment came in the form of strengthening the defensive side of his game.
At his age and with this Cats roster, Thornton won't be playing every night, but on the nights he does, he will certainly provide additional defensive help from the forward – not to mention the ability to play high. at the bottom of the alignment if necessary. .
I look forward to Jumbo bringing his game and intangibles to this team.
Finally, I really liked his story about entering training camp as a rookie against an established guy.
Overall, I found it to be a solid listen.
we welcome @lindsaybhockey at Territoire Talk this week!

More discussions about cereals and salads from @jamesoncoop and @dougplagens… Listen at your own risk.

»Https://t.co/9cvQdqXxQp pic.twitter.com/Fe5t4PzATU

– Florida Panthers (@FlaPanthers) 25 August 2021
Lundell in town
As the rookie tournament approaches, European ice destroyer himself Anton Lundell is in FLA… who's ready !?
Oh Lawd, he's coming. ??

Lundell is on his way to SoFla! ?? pic.twitter.com/V3M7u8vw7l

– Jameson Olive (@JamesonCoop) August 27, 2021
Serious question?
With many teams having third shirts and the Cats would often get one, I happened to find myself thinking of the blue thirds '09 – '12…
I know the rumor has it that they were designed to be a big advertisement for Jet Blue – which had the colors the jerseys were modeled on – but I'm curious what you thought of them.
Until the recent marketing overhaul, Florida stuck with the main leaping cat logo, palm tree shoulder patch, and color scheme – just changing the layout of the stripes and jersey. The 2009 sweater was a major shock to the system for Cats fans. Pretty funny, I actually liked it and then I hated it. Looking back on it in 2021, I can say that I love it again.
Don't get me wrong… the main logo is atrocious. The jumping cat would have looked much nicer on it. But there are elements of this setup that I really like.
I think the overall makeup of the jersey with the horizontal stripes breaking up the colors was nice. I also liked the "FLA" shoulder shell / pants patch – although I would have glued the palm tree to the jersey only, left the "FLA" on the helmet and removed it from the hulls. The pants had a nice touch with the vertical stripe and the socks were also a nice throwback to the original composition of the socks (just different colors).
I think the most shocking thing is definitely the choice of color. It didn't feature anything similar to the home and away jerseys of the time, making it look like a whole different team setup.
What were your guy's thoughts on this?
[Image from nhluniforms.com]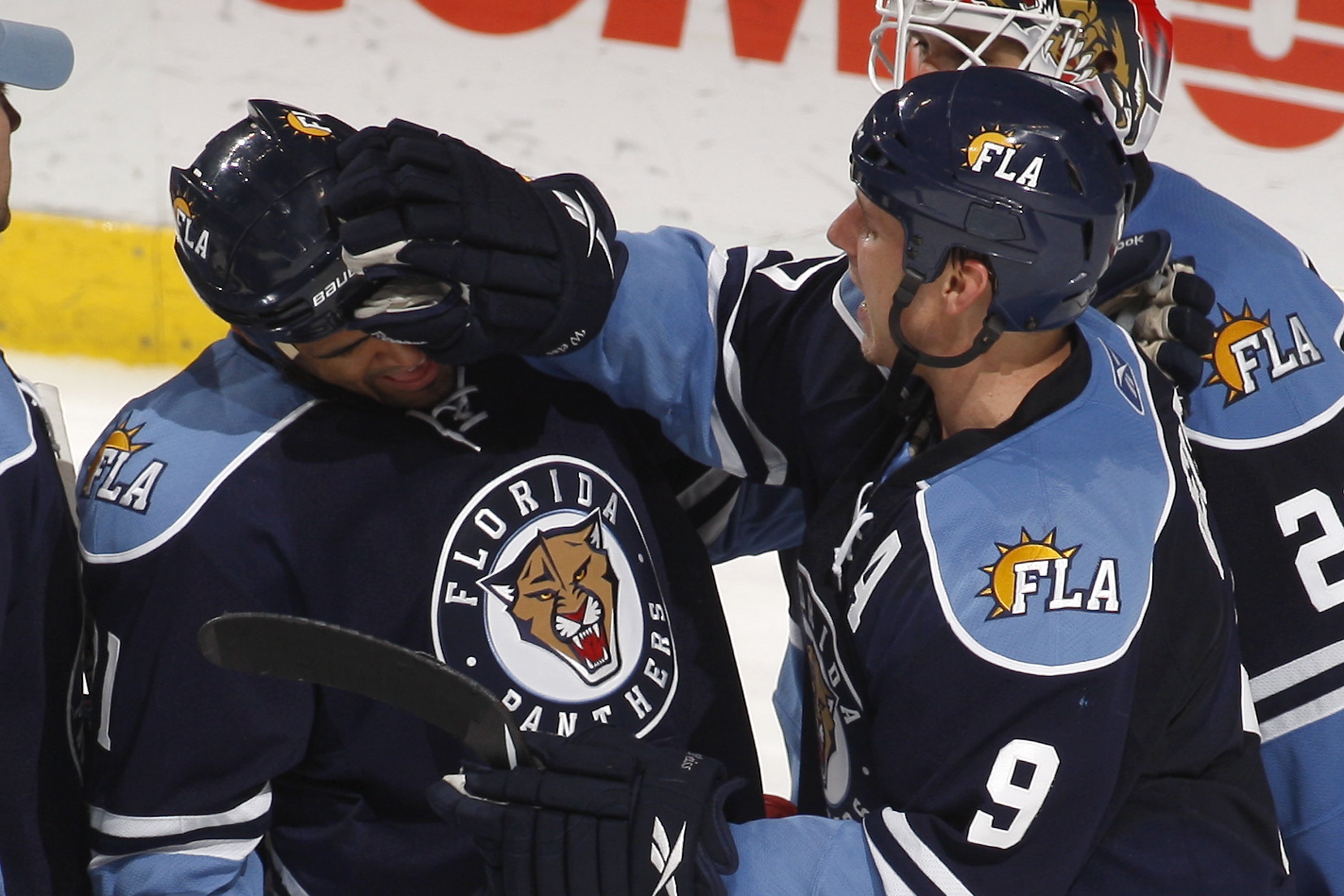 [Image from BleacherReport]
________________
Have a nice weekend and go Panthers!