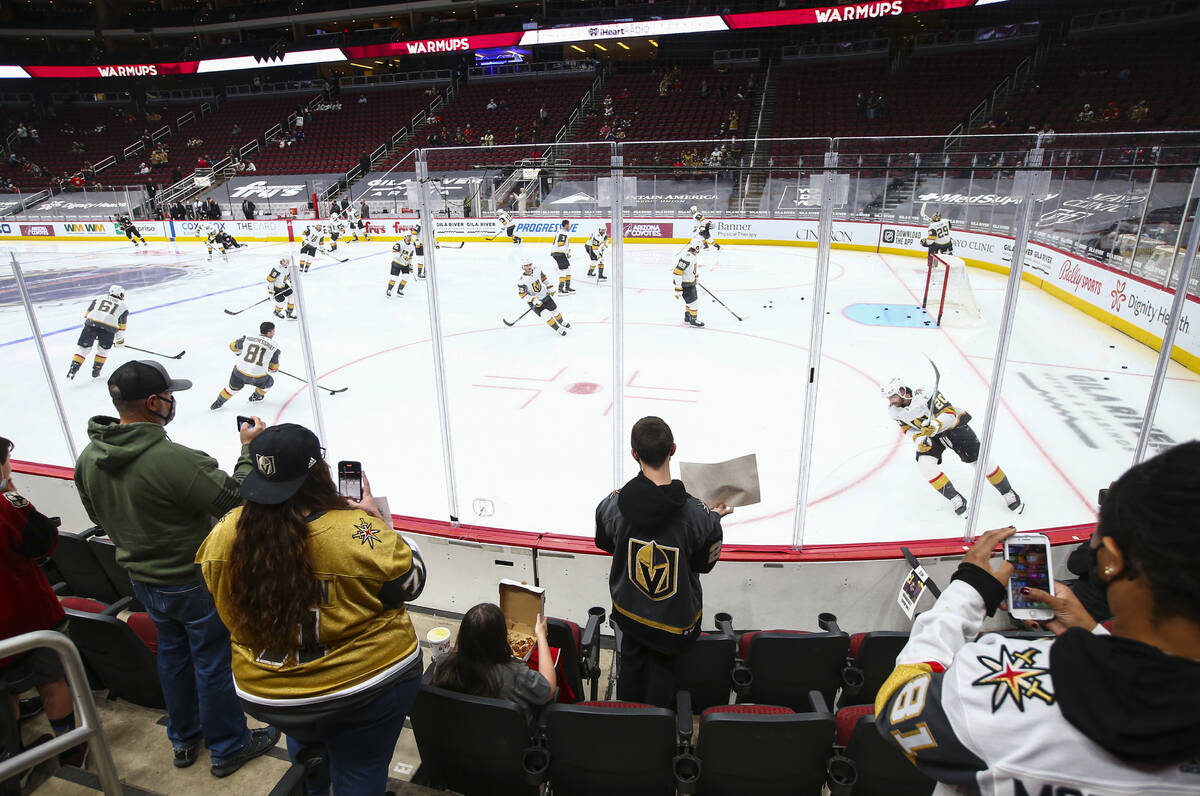 Pete DeBoer ponders his answer until the silence starts to get awkward.
And even after several seconds, the Golden Knights coach couldn't find any memories of the Arizona Coyotes' home in Glendale, Arizona.
"I think my break probably tells you that," DeBoer said, making those in the room laugh. "I always enjoy going back. That's probably the best way to put it.
The Knights will make what is almost certainly their last trip to Gila River Arena on Friday, and it doesn't look like they'll miss it much.
The Coyotes began playing at the arena in 2003 and are in the final year of their tenure. The City of Glendale essentially kicked the team out, making this season their last in the building.
While the Coyotes await approval for a new arena in Tempe, Ariz., they will play at Arizona State's new arena for at least the next three seasons starting in the fall.
"I'm glad Arizona has the opportunity to keep the team in Arizona," DeBoer said. "I always enjoy going back. »
The Knights have won seven of 10 meetings at Gila River Arena, including a 7-1 victory on December 3 when Max Pacioretty scored twice.
Arizona State's new arena is expected to have a capacity of around 5,000, which will limit travel opportunities for Knights fans.
"I know our fans love going out there," defender Shea Theodore said. "It's still loud, and you still hear the 'Knight' during the anthem. We're pretty much going to play, try to get wins.
Political science
The events in Ukraine are not something the Knights feel comfortable discussing, and DeBoer has not discussed it with the team. But the Russian invasion has a geopolitical impact on the organization of the Knights.
Winger Evgenii Dadonov hails from Russia, as do minor leaguers Pavel Dorofeyev, Maxim Marushev and Daniil Miromanov. Prospect Ivan Morozov is in the final year of his contract in Russia and has shown interest in playing in North America.
Additionally, defensemen Daniil Chayka (Russia) and Artur Cholach (Ukraine) were drafted in 2021 and play in the Ontario Hockey League.
"These are sensitive things," said DeBoer, whose mother is Ukrainian. "We certainly have intersections within our group and our organization."
Black History Month Game
The Knights will wear special jerseys during the warm-ups in honor of Black History Month during Saturday's game against Colorado at T-Mobile Arena. The jerseys will be signed and available via an online auction.
Professional boxer Nico Ali Walsh and NAACP President Roxann McCoy will be the rally sirens. Broadway in the Hood, a local youth organization, will perform during the second intermission.
Time change
The Knights' March 13 game in Columbus will begin at 4 p.m. PT, the league announced Thursday. It was originally scheduled to start at 3 a.m.
Contact David Schoen at [email protected] or 702-387-5203. To follow @DavidSchoenLVRJ on Twitter.