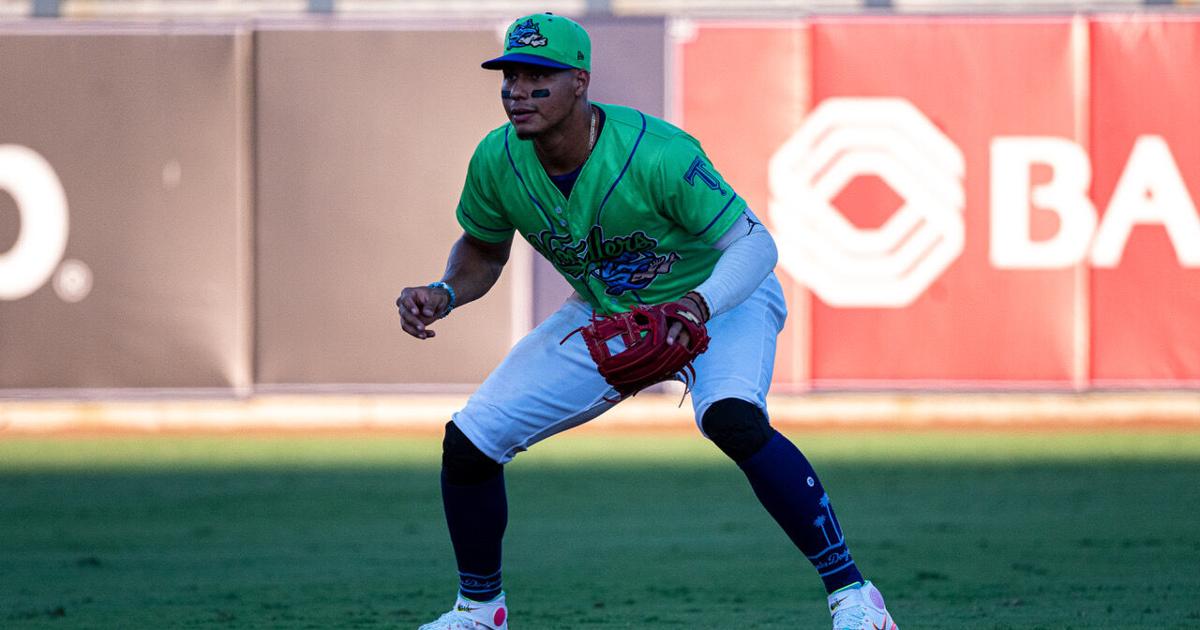 Sunday
Next: 1:05 p.m. vs. Midland RockHounds at ONEOK Field
Probable launchers: Midland, RHP Colin Peluse (8-3, 5.62 ERA); Tulsa, RHP Bobby Miller (5-6, 4.48 ERA).
Series season: Drillers lead 6-5
Specials: Family Funday – All children 14 and under will receive a coupon for a free hot dog, Hiland milk, fruit cup and ice cream treat. Plus, kids are encouraged to run the bases after the game. Noodlers Kids Socks – The first 500 children who enter through the Union Home Mortgage, Oil Derrick or Osage Casino Hotel/Greenwood entrances will receive green and blue Noodlers Kids Socks to cap off the Noodlers weekend. Youth Skills Clinic — Prior to the game, all youth baseball and softball players are invited to attend the clinic with the Drillers. The gate to UHM's first base will open at 11:30 a.m. for clinic attendees. All other doors will open at noon.
On the bridge: 7:05 p.m. Aug. 30 vs. NW Arkansas ($2 Tuesday)
Drill bits
RockHounds Roller: Kyle McCann homered twice to help lead Midland past Tulsa 6-2 on Saturday at ONEOK Field. McCann homered in the first inning for the second straight night.
David Leal (4-4) pitched seven innings as he combined with Chase Cohen on a two-run hit. Leal, a southpaw who didn't walk and only once, gave up both hits — homers to Leonel Valera in the first inning and Ismael Alcantara in the second. Valera's blast traveled 450 feet and landed atop the dash bar. Alcantara's first Double-A homer in his third game with Tulsa went 398 feet. The Drillers (58-47, 18-20 in the second half) had just two base runners in the final 7⅔ innings.
"He (Leal) mixed up his pitches and frankly, we just didn't have enough good at bats against him," Drillers manager Scott Hennessey said. "Too many low quality attacks and it wasn't our night offensively."
Midland (56-51, 25-13) took a 3-2 lead with a pair of two-out runs in the third on Jordan Diaz's RBI single and reliever John Rooney's wild pitch.
List moves: Drillers right-hander Landon Knack was removed from the development list and pitcher Jose Martinez was placed on the disabled list. Knack, on a 45-pitch limit, started Saturday's game and was charged with three runs on four hits in 2⅓ innings. He struck out three and did not walk.
Knack threw better than his line indicated as he started with a 2-1 lead before Rooney allowed two legacy runners to score. Knack hadn't pitched since allowing four runs in the third inning on July 16.
"What I liked the most was that he came out of it feeling comfortable and confident," Hennessey said. "He knows he has no injury. I thought his mix was really good. His bike wasn't quite what we've seen in the past, but he'll get it back as he goes. 'He'll record more innings He kicked the ball off He snagged the change to McCann in the first inning, but other than that he was pretty good.
In the spotlight: The Tulsa Nationals Little League team which competed as Team Oklahoma and finished second in the recent Little League World Series Southwest Regional Tournament, received a loud ovation as its players were introduced to the crowd as they stood on the Drillers' dugout between innings at the start of Saturday's game.
Another levy: Rooney recorded his 13th pick of the season. He ranks second in the minors behind Ryan Weathers of Triple-A El Paso, who has 14.
Trails broke: Tulsa's Justin Yurchak had an eight-game overtime hitting streak with an 0-for-4 ending, and Andy Pages went 0-for-4 as his on-base streak ended at 11 games.
Color match: For the third night in a row, the Drillers wore lime green Noodlers jerseys. The RockHounds had their orange jerseys on Thursday and Friday before switching to light blue jerseys on Saturday.
Midland;102;001;101;—6;12;0
Toulouse;110;000;000;—;2;2;0
Leal, Cohen (8) and Soderström; Knack, Rooney (3), Ramirez (6) and Taylor. W: Leal (4-4). L : Punch (2-4). To safeguard: Cohen (5). HOUR: Midland, McCann 2 (17), Diaz (15); Tulsa, Valera (6), Alcantara (1). RBI: Midland, McCann 2 (50), Diaz 2 (58), Selman (39); Tulsa, Valera (29), Alcantara (1). LOB: Midland 9, Tulsa 1. T: 2h36. A: 5,593.
Saturday lineups: Midland — 1, Michael Guldberg, CF (AB-RH-BI, 4-1-1-0); 2, Zack Gelof, 2B (5-1-1-0); 3, Kyle McCann, 1B (5-2-2-2); 4, Jordan Diaz, DH (5-1-2-2); 5, Tyler Soderstrom, C (4-0-1-0); 6, Brett Harris, 3B (5-1-1-0); 7, Marty Bechina, SS (4-0-2-0); 8, Shane Selman, RF (4-0-1-1); 9, Chase Calabuig, LF (3-0-1-0).
Tulsa- 1, Leonel Valera, SS (4-1-1-1); 2, Justin Yurchak, 1G (4-0-0-0); 3, Andy Pages, RF (4-0-0-0); 4, Brandon Lewis, DH (3-0-0-0); 5, Abiatal Avelino, 3B (2-0-0-0); 6, 9, Ismael Alcantara, CF (3-1-1-1); 7, Carson Taylor, C (3-0-0-0); 8, Ty Kelly, LF (2-0-0-0); 9, Kenneth Betancourt, 2B (3-0-0-0).
— Barry Lewis, Tulsa World