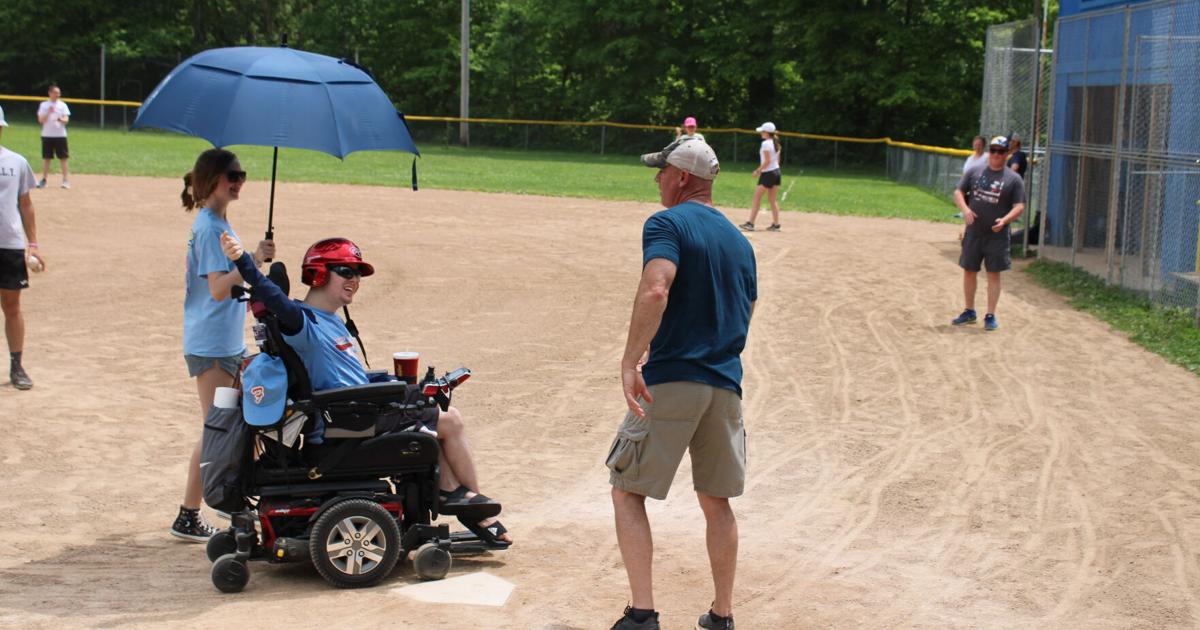 BARRACKVILLE — It's a sunny Sunday afternoon, and at Lewis Hall Field, a baseball diamond is packed with families in the stands, and there's a commotion in both dugouts.
Like millions of young people across the United States, park attendees prepare to play baseball. But there is an additional aspect to this game – it is for members of the local Challenger League. Little League Challenger baseball is a division of Little League Baseball founded in 1989, as an "adaptive baseball program for people with physical and intellectual challenges".
Fringe Little League Baseball is the organizing body for little league baseball in Fairmont, Monongah, Rivesville, Barrackville and throughout Marion County, and Fringe's Little League Challenger division has empowered even more community members to playing ball since its creation in 2011.
Larry and Melanie Kincell run the show on Sundays, with "Coach Larry" helping the players on the field and Melanie organizing the league off the field.
Their involvement began shortly after Larry stepped down as President of Fringe Little League.
"There was a Fringe president whose child had special needs, and she had heard about this league and suggested we start," Melanie Kincell said. "At the time, my husband was stepping down as president, and she was coming in as president of the league, and she asked him if he would be willing to try and start this as another avenue for kids in that area. . able to play ball when they have special needs.
The effort started small, but with the help of a wide variety of people and organizations in the community, the Challenger Division grew.
"It started with maybe five kids that first year," Melanie said. "And every year, we just grew. We contacted via Facebook and via the [Disability Action Center] at Fairmont and in high schools — many of them have their teachers with special needs.
"A lot of times, though, kids pretty much hear by ear, and then you get a phone call, and we have more kids."
Players join the Challenger Division for free — fully custom jerseys with names on the back to boot — and other gear is funded through donations from families, the Fringe Little League and others.
The league gets more than money given to it, it also saves people time. On the field, players are often paired with parents or "buddies"—volunteers who help participants and join them in enjoying a day at the ballpark.
One such volunteer is Fairmont's Aidan Green, a former Fairmont Senior Football State Champion who is preparing for his freshman year on the Johns Hopkins University team.
Green has been with the Challenger League for the past seven summers, dating back to his college days. When his mother heard about the league, she talked to Aidan and his younger brother about volunteering.
"I brought my brother and we went out," Green said. "I was in college, we were both pretty young, and now I'm in college and still do."
The league currently has 13 players, who split into two teams each week during a six-week season that usually begins around the beginning of May. Both teams take turns hitting and fielding, as in any normal game. In the Challenger Division, no one keeps score and everyone gets a chance to hit and run around bases.
"Everyone appreciates it," Melanie Kincell said. "If you're not sure what it's about after the first time, you want to keep coming back, because it's nice. It's great to see these kids being able to play a sport that they maybe see playing with their siblings or have seen on TV in a normal setting. A little league they couldn't play, but here they can.
As the two teams face off in the lineup every inning, family can cheer them on and smiling faces cross home plate in America's past time.
The time spent in the game also revealed the great diversity of players – each with big dreams, said Larry Kincell, even highlighting a player with a master's degree teaching summer.
"It's something to do where you can meet new people and have fun," said Michael Tennant, a recent graduate of Pierpont Community and Technical College with a degree in business accounting, who has been playing in the Challenger Division since. 2012 or 2013. "I appreciate it."
"They are all very grateful," Melanie Kincell said. "It doesn't matter where we see them, whether we meet them at Walmart or somewhere else, it's always 'Coach Larry, I can't wait to play again, I had so much fun. They are very grateful. And as you'll see, we don't just cheer for our own kids, everyone knows all the names of the kids, they cheer them all on, they're very supportive and they appreciate that.
Next Sunday is the end of the Challenger League season. They plan to hand out prizes and have a picnic after the game, a game which, as has been the message from everyone involved, should be a lot of fun.
"It's just fun. You can come hang out and meet a bunch of new people," Green said.
"I've made a ton of friends here, and that's a great thing."