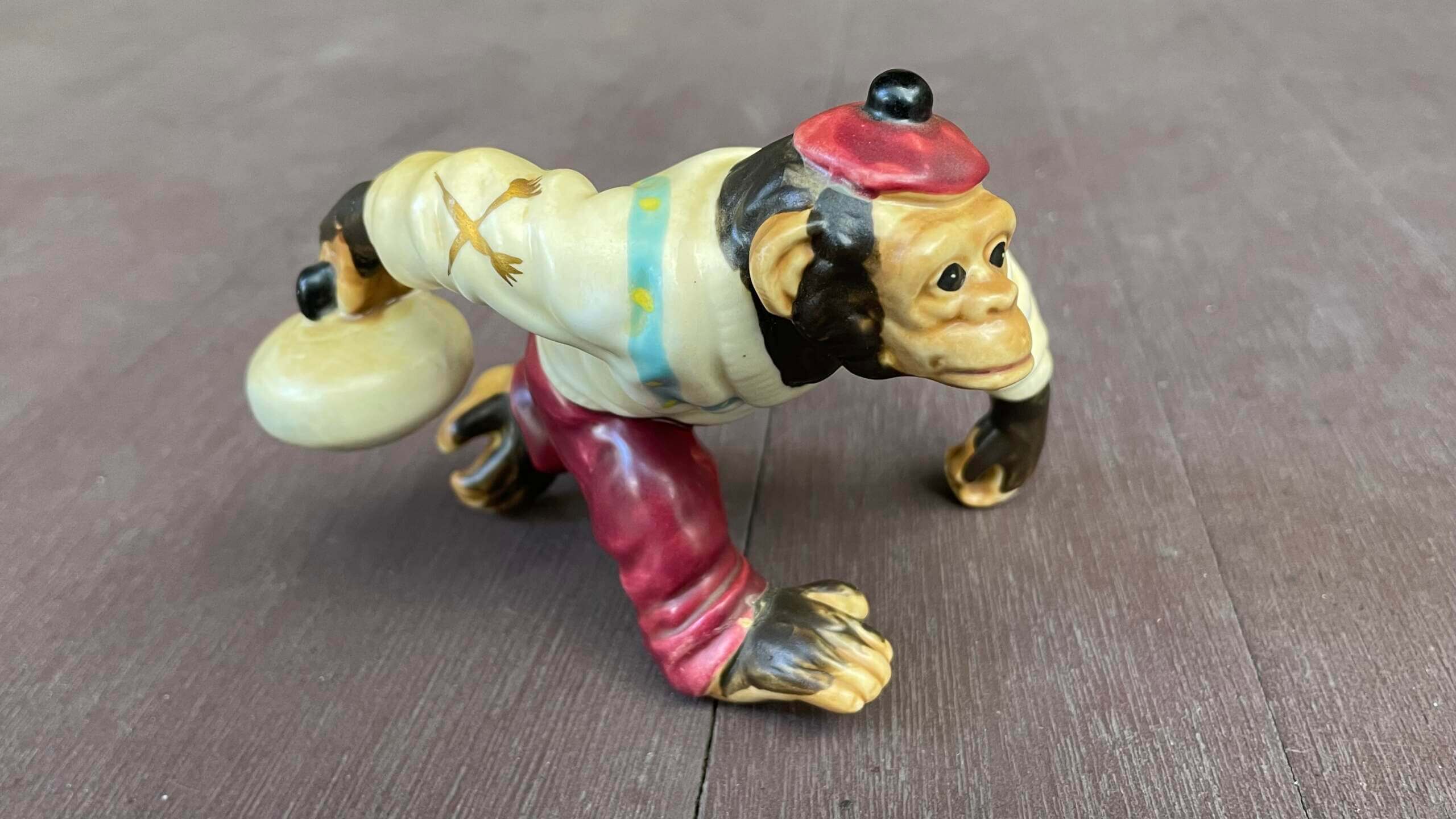 Longtime Uni Watch reader Will Scheibler, who lives in Thunder Bay, Ontario, often finds fun items at his local thrift store to share with me. He recently outdid himself by sending me a big box of used items, mostly curling related, including the beautiful pins pictured above. Wonderful!
Will also sent a Nope-curling stone. It's for the great Canadian sport of five-pin bowling, and Holy Moly is a beauty:
Then there's a pair of "curling humor" ashtrays (which remind me of the famous "Futuro House" in Pensacola, Florida):
I love it, but there's something annoying about it of them of something – I feel like I need to find at least one more in this series to make it an authentic collectible!
Will also included a pair of very nice curling trophies. I particularly like the striped/textured sweater on the first one:
Now comes my favorite thing in a whole box: a figurine of a curling chimpanzee! Completely absurd and unbelievable. I will cherish this little guy until the day I die:
For the more literature inclined there is a selection of books on curling, as well as a bonus book on hockey uniform numbers:
Next up is an, uh, imaginatively designed curling jersey in Uni Watch colors:
I need to stay hydrated by drinking from a curling-themed mug:
Will also sent a nice set of Scotties Tournament of Hearts tournament scarf/mitts:
There's also this gorgeous curling sweater in a deep, saturated shade of green. I will definitely be wearing it a lot around town when the weather cools down a bit:
If you look closely at the button placket, you can see it's actually a women's sweater (it buttons right over left), but it fits me fine. As you can also see, there is a button missing, which I will have to replace. I doubt I can find an exact match though, as the original buttons have a curling pattern stamped on them! Look at this:
The sweater also has a nice inside label:
Readers with good memory may recall that this wasn't the first curling sweater Will gave me. I am touched by his generosity! Thank you very much Will.
In the meantime, if that's any indication of what savings are like in Canada, that alone might warrant a move north. Hmmm.
---
NHL Season Preview
Ready or not, the NHL regular season starts this Friday, which means it's almost time for the Uni Watch NHL 2022 Season Preview, which will have all the news on new uniforms, logos, crests, masks. goalie and center ice designs that you'll be seeing this season. Much like my recent NFL preview, it's a doozy, with over 5,000 words and dozens of photos – easily the biggest NHL preview I've ever done.
The NHL preview will be available tomorrow morning for my Premium subscribers. If you haven't subscribed yet, you now have three ways to sign up:
Two additional thoughts: firstly, I am currently hard at work on the NBA Season Preview, which will be published on Bulletin next week, so now is a very good time to subscribe, even if you don't only for a month. . And second, remember that I will send a Uni Watch prize package to a randomly selected UW+ registrant each day that we have at least seven new registrants. Come on, people, make me proud (and keep me busy making batches!).
---
Football jersey reminder
In case you missed it last week, I collaborated with longtime Uni Watch reader Austin Chen on the first-ever Uni Watch football shirts. We are now taking pre-orders on them, for delivery around the start of the World Cup, but you must place your order by this Friday. All the details here.
• • • • •
The ticker will be posted later this morning, and Collector's Corner shortly thereafter. — Pail